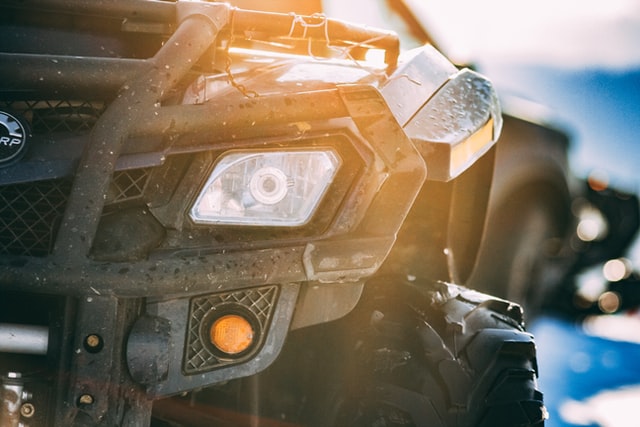 Snowplowing with your ATV can make life easier, especially if you live in the northern states. While southern states like Florida and Georgia can enjoy sunshine all year long, other states get to experience the joys of snowfall. However, snow is just as hazardous as it is beautiful. Just recently, residents of Michigan's Upper Peninsula got to experience 30 inches of snow after a record storm. At times like these, shoveling by hand isn't enough. This is the perfect time to pull out your ATV for some snowplowing!
 Snowplowing with an ATV
Before you begin scooping up snow, knowing how to operate an ATV during snowplowing is imperative. First of all, you want to make sure that your ATV is ready to run. After all, your ATV is coming out of winter storage. This is the time to check your oil, gas tank, and coolant. In addition, you should double-check your electrical wires to make sure they are in tip-top shape!
After you do your initial check, you will need to mount the snowplow onto your vehicle. Depending on the type of ATV that you have, the equipment will be placed differently. If you have a front-ender, you are lucky. All you need to do is mount the plow. For other ATVs, you will need to attach them to the rack.
Now it's time to move snow! However, there is a specific way to remove snow with an ATV.
How to Snowplow
Even if you are using an all-terrain vehicle, removing snow is a challenge. While you can do it alone, it is recommended to have someone to help you. Regardless, there are a few ways to make snowplowing easier on your ATV.
First of all, you need to clear the snow in front of your ATV. You want a good amount of clearance for your ATV to maneuver and remove the snow. Once you have that settled, select an area to start plowing. Before you start ramming into the snow, you need to stop before the snow pile. This pause will help the snow scooping process after you apply the throttle. In addition, this prevents the snow from going underneath the plow.
You repeat this process till the snow is cleared. Easy, right?
Types of Plows
The type of plow that you use can affect how much snow you can push and remove from an area. Plows can range in length from 50 inches to 60 inches. When selecting your equipment, it is important to ensure that plow is made out of steel. This will help handle the weight of snow as it is being moved.
There is a variety of features that are unique to certain plows. So, shop around and figure out what type of plow you want!
---
Have a used ATV? Sell your ATVs and Motorcycles to USA Powersports!