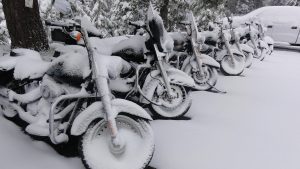 Storing or selling your Powersport vehicles is the biggest question to ask around wintertime. This season makes it impossible for people to ride. Like it or not, winter is not an ideal time to ride your motorcycle or ATV. When it's time to put away your vehicles, it is difficult to decide what to do. So, what are your options this winter? And which option is right for you?
Storing Your Powersports
Storing your motorcycle and other vehicles is one of the two viable options for owners. However, there are many factors that contribute to storing your Powersports away properly. First of all, your property needs to be in a well-ventilated, indoor area. This will prevent moisture build-up and allow air to circulate. It is important to note that you should not have chemicals/fertilizer near your Powersports during the winter. They could cause corrosion. For owners, the ideal place to store your stuff is on your own property or storage unit.
Simple enough, right? Well, that's only the beginning. You still need to maintain your motorcycle and other vehicles during the winter. That means getting an oil change, switching out fluids, buying a new battery, checking your tires, and other basic care tasks. Furthermore, you should be scrubbing down, washing, and waxing your property. These are only part of the steps.
Although there is a lot more work that comes into storing your property, your bike will be in good condition and ready to go when spring comes around.
Selling Your Powersports
The other option is selling your Powersport vehicle. By selling your motorcycle, you can omit the stress and work of properly storing your items. You will not have to spend the winter checking up on your Powersports and will not have to deal with the stress of buying new stuff. Furthermore, the money that you receive from selling your vehicle can be used to get a new motorcycle. Moreover, you can use some of that money for the holiday season.
While selling your motorcycle, ATV or other Powersports can be emotionally hard, it can save you time and stress. Not to mention, give you some spending money.
Storing or Selling This Winter
The question is which option is the best for you? Should you be storing or selling this winter? That's up to the owner. However, there are things to consider when making this decision. How often do you use your bike? Can you afford to keep up maintenance costs? Are you looking to upgrade or change your bike?
Sell Your Powersport to USA Powersports
These few questions can help determine what is right for you. If you want to sell, it is important to find a good buyer. At USA Powersports, we buy all types of Powersports. Motorcycles, ATVs, Jet Skis, Boats, and more! If you have them, we want them! Unlike other buyers, we make things easy.
Finally, just fill out our free quote form and get the best offer for your vehicle this season!