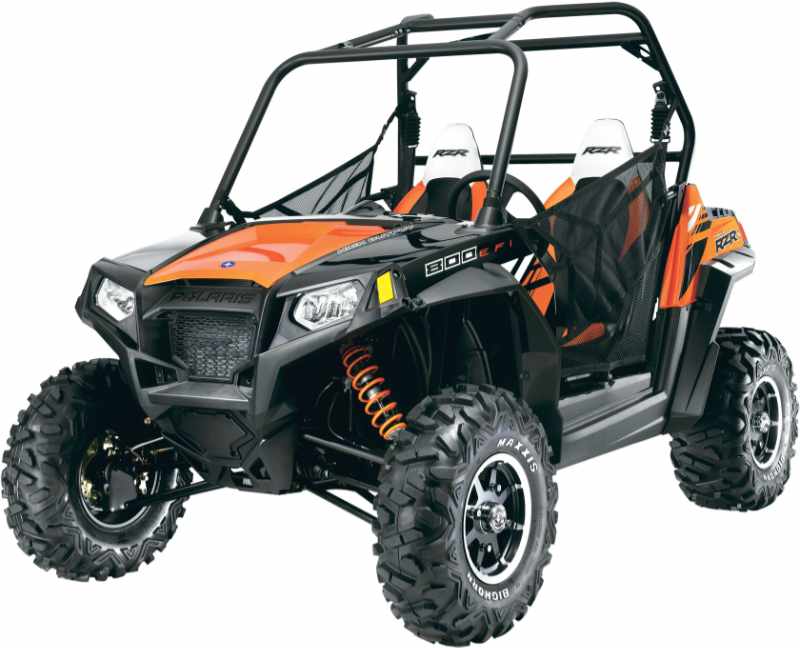 If you are an avid outdoorsman or a big hunter, then a Polaris Ranger is your perfect vehicle. With great handling and a smooth ride, this Polaris makes any trail simple and easy.  Polaris has a rich history of building quality off-road vehicles, and the Ranger is another in a great line of them.
The 2011 Polaris RANGER RZR® is the industry's only trail-capable side-by-side*. It has Razor-Sharp Performance and a 30% better fuel range for 2011. Improved throttle response, shifting, side nets, new colors, 30% stronger steel in the roll cages, turned down exhaust tip, and more.
Polaris Ranger RZR Review
One of the other areas Polaris addressed this year is storage for the RZRs. Although I'll admit I'd still really like to see more storage incorporated under the dash of the RZR, the new sealed under-seat storage was a welcome surprise. And, last but not least, if you've removed your factory netting because it got caught in trees and ripped off or just was too much of a hassle to get in and out of, Polaris redesigned the netting to only require one latch to be unclipped to get in and out of the vehicle.
Plus, the netting right against your shoulder has been replaced with durable plastic that won't get ripped off like the previous design. Plus, all in the quest for safety, Polaris is using 30% stronger steel in the roll cages to further prevent folks from getting hurt if they get out of control and roll their RZR.
Sell Your Polaris Side-by-Side
If you are looking to sell your side-by-side, we offer some of the best quotes on the internet. In addition, we make the whole process simple and hassle-free. Simply fill out our quote form, we will respond with an offer. Once the offer is accepted we arrange payment and pick up of the vehicle.
Just that simple! Finally, contact us today for a great offer!