Getting out in 2016
It's finally time! Michigan is finally seeing snow in the state, which means it's time to bust out the old sled and get it running! If you want to get out of the house and maybe make some more sled head friends, we've found the events that you might be interested in!
But first, how is your old sled? Has it seen better days? If you want to be able to keep up with the pack, you have to make sure your sled can cut it. Here at USApowersportsMi we can help you. We'll buy your old sled off you for cold hard cash you can put into another sled, or fix up any other sled as well. Just fill out our free online form here to get your quote today! It's easy, quick, and requires zero commitment.
Click here for our free online quote! 
February 1st- 6th Sault Sainte Marie, Michigan
International 500 Snowmobile Race 2016
If you've always dreamed of putting those cocky Canadians in their place, this is the event to do it! The International 500 Snowmobile Race is your chance to try your luck against some of the best. Said to be the best snowmobile endurance race in world, you'll be put up against thousands of racers from all over. As it's site says  "I-500 is the world's longest, fastest, toughest, and most-exciting oval race event." so why miss out?   This event is located in the U.P., but the drive will be worth it for the quality of the snow and track. This event has things going on every day Monday – Saturday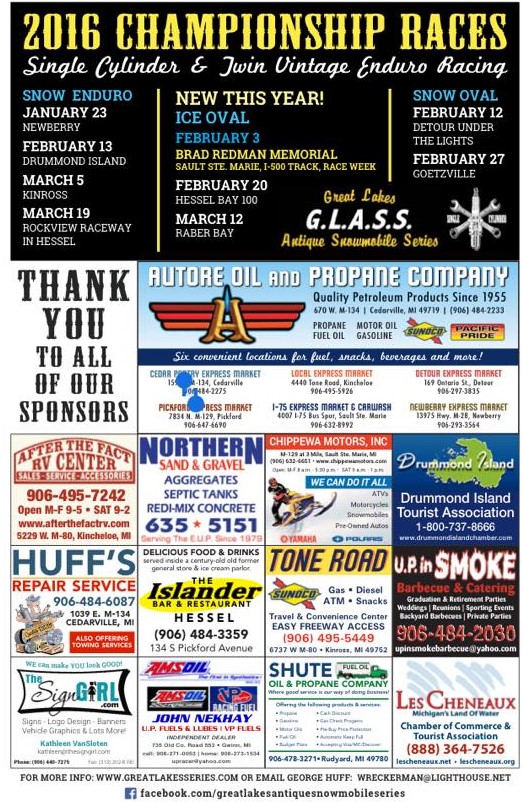 February – March, Michigan
Great Lakes Antique Snowmobile Series (G.L.A.S.S) has many events and races planned for the 2016 season. As you can see from their poster, they like to race and ride! This group of sled enthusiasts race freqently in the winter months in the upper part of the Lower Peninsula and into the Upper Peninsula as well! These guys know what they're doing, so make sure you look at their registration requirements! Whats great about this group is they offer cash rewards for the winners of each class

---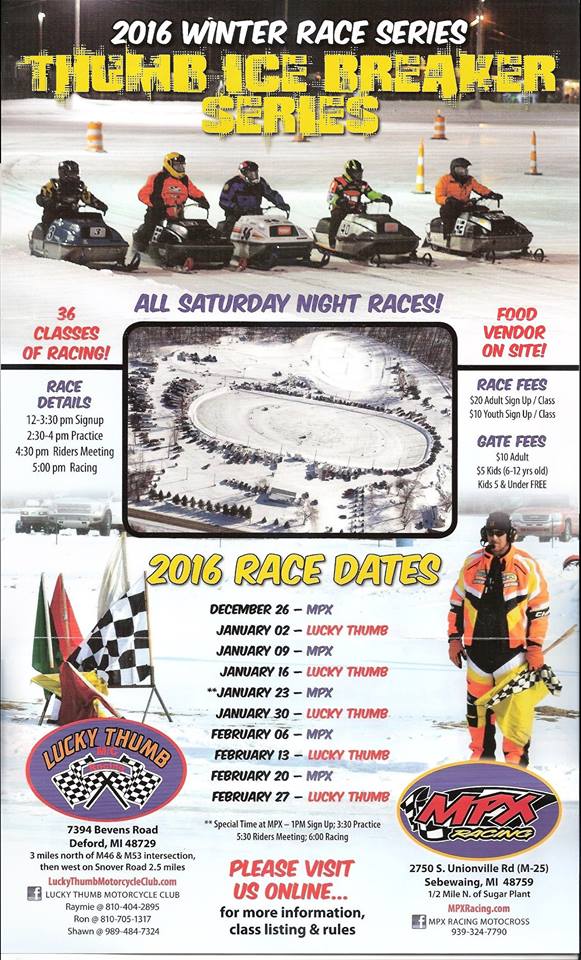 February, Deford and Sebewaing, MI 
Races happen every Saturday at their specified locations (as seen on the flyer to the left). 36 classes of races, youth class, food vendors, and no early registration times on the days of the race. Sleep off Friday nights debauchery, then get out and enjoy racing your sled Saturday night! Registration happens between 12 noon – 3:30 PM
Races start at 5:00 pm.
---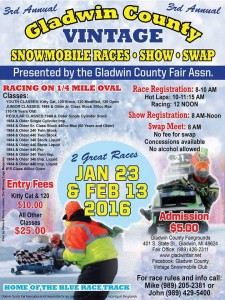 February 13th , Gladwin, Michigan
3rd Annual Snowmobile Races, Swap meet, Youth and Junior racing classes,
Come together with your Sled crew and come test out your vintage snowmobile against the rest. Registration is $25 for Adults and $10 for Youth and Junior class, $5 General Admission.
---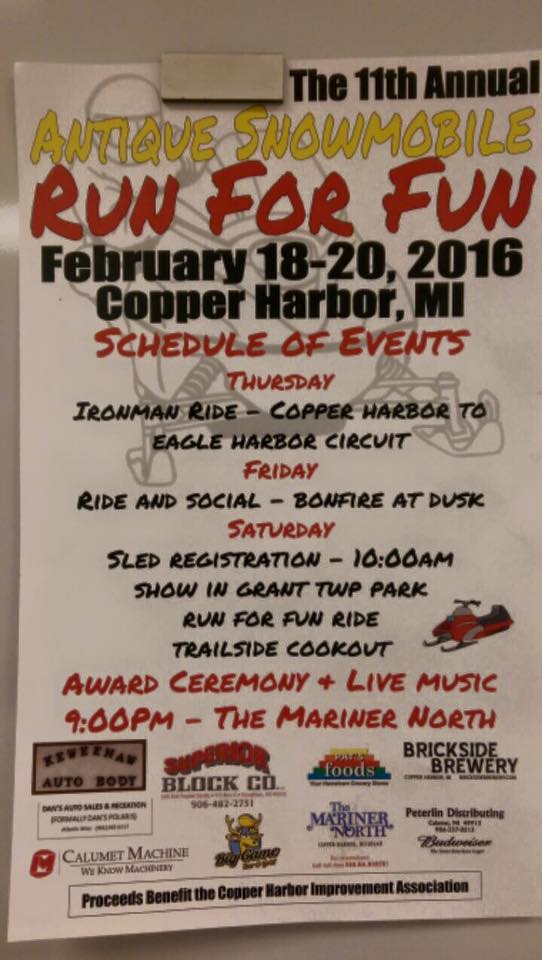 February 18-20, Cooper Harbor, Michigan (About 45 miles northeast of Houghton/Hancock)
11th Annual Antique Snowmobile "Run for Fun" List of events include:
Thursday: Ironman Ride – Copper Harbor to Eagle Harbor circuit
Friday: Ride and Social – Bonfire at Dusk
Saturday: Sled Registration, Shows for the crew, the main event (Run for Fun) and a cookout when every thing is said and done! 
If you want to have a fun time in snow with you and your crew, then look no further! The 11th annual Run for Fun is just that, FUN!
---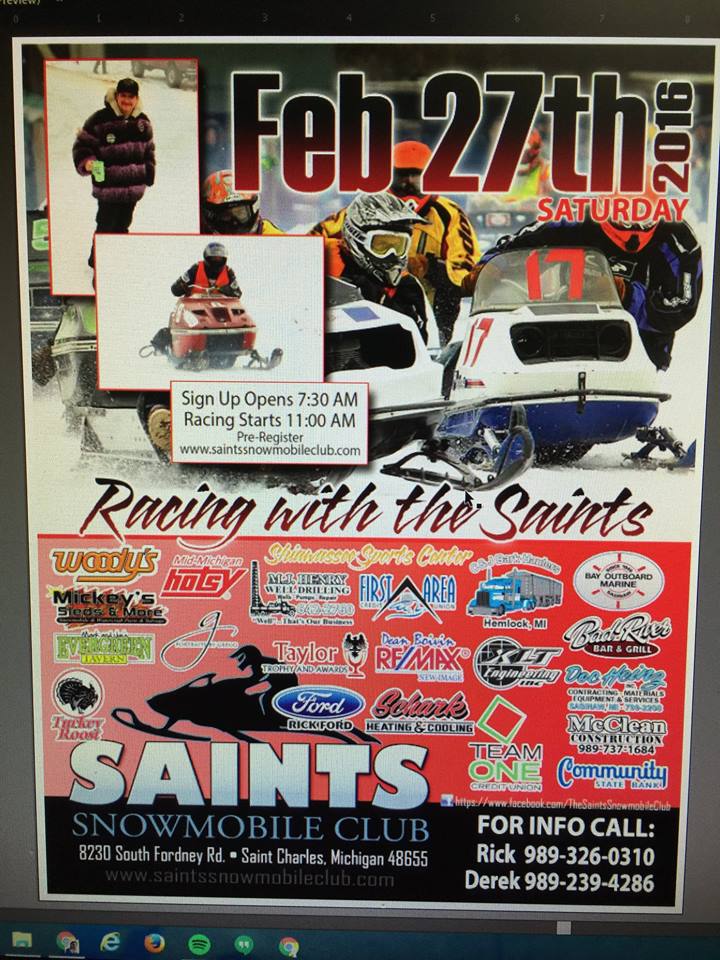 February 27th
Saint Charles, Michigan
If you can't get enough racing for a good cause then hop on your sled and go Race with the Saints!
Sign up is at 7:30 am
Race starts 11:00 am
So get out there and enjoy the winter! Spring is right around the corner, so get out and ride! Remember, if you need someone to sell your old sled to, we here at USApowersportsMI can help!