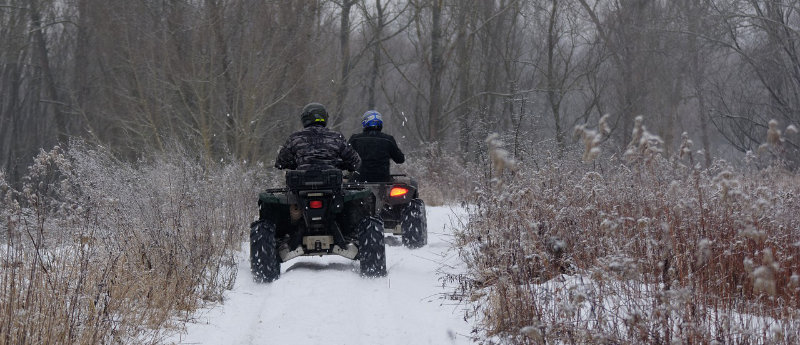 If you are an avid hunter or year-round camper, one of the best ways to get around in the winter is an ATV. Snow-covered trails are no match for an ATV.  The winters can get pretty rough in the midwest and hiking in snow can get old fast.
When you are heading to your deer stand at 4 am during the hunting season can be a long cold walk. With your ATV it is a much more enjoyable trip to the stand. There are many brands and makers of ATVs of all types. Some of the top ATV companies are:
Honda
Polaris
Yamaha
Can-Am
Arctic Cat
Kawasaki
Suzuki
KTM
Looking To Sell Your ATV
Of course, you may need to sell your old ATV before investing in a new one. Your first question maybe is where can you sell your ATV. The first choice and the best choice is USA Powersports.  We are always looking to buy used ATVs from all the major brands.
At USA Powersports we are enthusiasts and riders of all types of Powersports vehicles.  In addition, we know the value of your vehicle and we will make fair offers for all the vehicles.  If you are looking to sell, your first step is to fill out our quote form.
Once we receive your submission, we will send you a fair quote for your vehicle. When the price is agreed upon, we will issue a check and arrange the pickup of the vehicle. It is just that simple.
ATVs Are In Demand
Throughout the south and the midwest, ATVS are always in high demand. From hunting to farming, these vehicles are always a useful and fun vehicle to own. Fill out our quote form today or give us a call at 1-800-963-9216 and get the money you want for your used ATV.