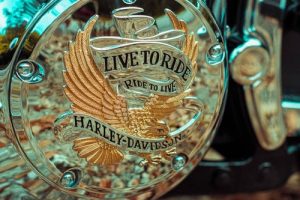 Harley Davidson. A name that is known around the world for its prestigious motorcycles. Originating in 1903 in Milwaukee, Wisconsin, Harley Davidson has been a staple of the international motorcycle community. Production began in Davidson's backyard with a slim motorized bicycle with a 116cc engine.  Since, the Harley brand has grown drastically expanding its production to Pennsylvania, Missouri, Brazil, India, and Thailand. Over 100 years later, Harley is still at the top of the list when it comes to choppers and cruiser-style motorcycles worldwide! producing some of the most visually astounding bikes highlighting engines of up to 2,147cc's!
The Harley Davidson name comes with a very interesting American history.
During World War I, they were the sole provider of the US military's demand for motorcycles, providing over 20,000 motorcycles for military use. Later in the 1920s, when the Great Depression hit, Harley Davidson took a hit, with sales dropping drastically. However, the company made it through and survived the depression. In fact, they were Harley Davidson and Indian motorcycles were the brands to make it. Following, once again in World War II, Harley provided the military with their motorcycle demand.
Despite all of the ups and downs that Harley Davidson went through, they still to this day continue to be a cherished name when it comes to motorcycles. Everyone knows of Harley Davidson motorcycles. The Harley Davidson name holds a lot of weight and is recognized around the world. Their American heritage has given them lasting popularity that speaks for itself.
Harleys Maintain Their Value
Harley Davidson motorcycle cruisers continue to be at the top of the list for most wanted motorcycles. Those seeking to purchase a motorcycle are searching for both new and used Harley Davidson motorcycles. Due to the impact of the pandemic there continues to be problems with the manufacturing of motorcycles. Metals and manufacturing supplies continue to be restricted.  This means that used Harley Davidson demand still remains extremely high.  Those looking to sell will get more cash for their Harley Davidson! The time for selling this iconic brand is now instead of later. You may be surprised at just how much you can sell your used cruiser for! Curious? Find out now!