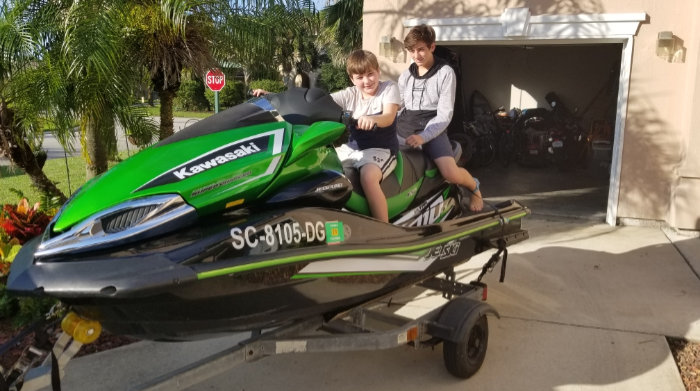 If you are looking to sell your Jet Ski today, look no further than USA Powersports.  We buy all types of used Personal Watercraft (PWC). From Jet Ski to Sea-Doo, if you have a used PWC we are interested.
It may be a little cool now, but spring and summer are right around the corner.  If you are a beach enthusiast then you know there is no better time at the beach than on a Jet Ski.
Before You Buy A Jet Ski Sell Your Old One
If you are thinking about buying a new Sea-Doo, Waverunner, or Jet Ski, make some money for the down payment first. Sell your old PWC to USA Powersports and use the money towards your new one.
When considering buying a new one there are some things you should consider. The Jet Ski is built for speed. If you are all about racing and going fast then the Jet Ski is more for you. Now if you are looking for a more family-oriented watercraft, then the Waverunner should be your choice.
Waverunners are usually bigger and have more seating. In addition, the engine is usually considered more low maintenance. Finally, if you are new to the whole watercraft scene, then the Sea-Doo is probably for you. The Sea-Doo has been known to be more beginner-friendly and generally run a little cheaper than the other models.
No matter what you choose make sure to sell your old one to USA Powersports. The whole process is simple, start by filling out our quote form. Next, we will contact you with a fair offer and once accepted, arrange to pick up the vehicle.
With such an easy process why bother selling it yourself or going to a dealer. Simply contact us today and get the money you deserve for your used Jet Ski, Waverunner, or Sea-Doo.