With Labor Day weekend over we look forward to the cool rides and the great fall motorcycle rallies happening all over Michigan. This is when all us riders get together to eat good, drink good, enjoy our toys, support organizations that need our help, and get our bikes ready for the winter. Some riders use this as an opportunity to buy or sell used motorcycles, ATVs, sport bikes and even snowmobiles.
One of our favorite motorcycle rallies is coming up on September 7th the Fallen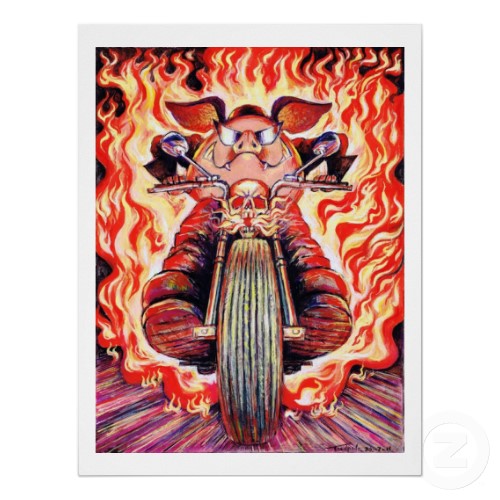 Heroes Ride and Pig Roast located in Oxford, MI . Taking I-75 from the downriver or Dundee area to M-24/Lapeer Rd towards Lapeer MI not far from our friends at Lapeer Manufacturing. This ride is sponsored by the American Legion Riders Post 108 with the proceeds going to the veterans that need medical help when they return home. The Pig roast is after the ride with entertainment! A Pig Roast is a great way to have a novelty dinner attracting riders and sponsors to the charity. Our friends at Catering By Scott host many Pig Roasts for powersports dealerships, corporate organizations, gun clubs, charities and much more.
Another motorcycle rally closer to us in Dundee is the Walnecks Bike Show and Swap Meet  just down M-50 in Monroe, MI before Telegraph Rd. The Bike show is at the Monroe County Fairgrounds off of Custer Rd. This is the perfect event to sell your used motorcycle, dirt bike, ATV, or even motorcycle parts. The swap meet spaces are all one low price, selling all kinds of posters, patches, motorcycle apparel and used motorbikes.
The next couple months with fall approaching fast you will see the streets with many riders living up the clear road. Don't just watch them, ride with them to the motorcycle rallies in Michigan they continue through December 2013.  It doesn't matter where in Michigan your coming from the motorcycle rallies are all over from cities up north like Grand Rapids, Muskegon, Mount Pleasant and Birch Run to the downriver cities like Monroe, Southgate, Taylor and Flat Rock. The rallies will continue and their waiting for you to ride with them!