Just because it's too cold out to ride doesn't mean you can't bridge the gap from winter until spring by taking part in motorcycle-related events all month long! Don't let the snow and ice get you down; there is actually plenty to do throughout the Great Lakes State this winter with your bike, and it all leads up to the Giant Motorcycle Swap Meet on January 26 in Lansing!
On Friday, January 24 the Nuclear Cowboyz Freestyle Tour makes a stop in Grand Rapids, Michigan. This motocross tour is an arena-based, choreographed production that features incredible freestyle stunts and an enormous indoor pyrotechnics show! Then on Saturday, January 25 in Dimondale, Michigan, you'll have the opportunity to eat great and give back during the Chili Cook-Off and Blood Drive at the Harley Davidson Capitol. There you can donate blood, and if you think your homemade chili is ready for the world you can bring it on over and enter your own recipe! There will be over 15 chilis for you to try and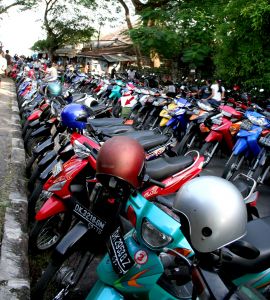 the top three entries will win a prize.
After that it's time to knock the dust off your bike and bring it out to the Lansing Center on East Michigan Ave. in Lansing for the Giant Motorcycle Swap Meet on Sunday, January 26! With over 70,000 square feet of everything motorcycles, the 12-4pm time period that the event runs through will fly by for motorcycle lovers! Meet with vendors from all over and sell or buy helmets, boots, saddle bags, parts like frames, fenders, and chrome pipes, and more! There will be show and starter bikes both on display and up for sale, so you can buy a bike if the price is right or sell your motorcycle! Tickets for adults are $9 and only $2 for children ages 6-12. Call 800-968-4242 for more information on this event.
If you feel like your bike has been cooped up for too long and you've got that itch to spend some quality time with it then it's time to start circling your calendar. There are events going on all the time, you've just got to find the ones that are right for you!