Benefits Of Using an ATV to Hunt
It's almost here. Opening day for Deer season in Michigan is rapidly approaching and we here at USAPowerSportsMI.com want to make sure your ready to go out there and bag yourself a buck. One way to get ready for the hunt is to ask yourself: Are you sick of hiking the long distances with all your gear strapped to your back? You m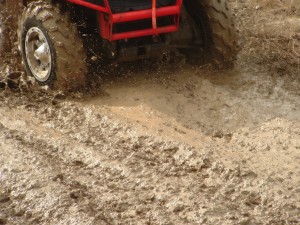 ay not be a "Young Buck" any more and those treks might be taking it out on your old bones. If you've ever thought about those facts, or are just sick of lugging all your gear around to your blind, maybe it's time to look into getting an ATV.
Atv's were made to take on that rough terrain that any hunter may not want to walk through and a truck can't get to. You're already roughing it, so why make it harder on yourself? ATV's were made for any terrain, (that's why they are called All Terrain Vehicles, get it?) and can be accessorized to suit your hunting needs. Gun holders, storage add ons, and with the capacity for towing, the possibilities are endless.  
Make sure when looking into an ATV that you've identified what you biggest needs are, and what you'll be using it for. You might be dealing with things like rough terrain, storage space, and what you will be hauling back. Each ATV brings something to the plate, and any extra time you spend figuring out what you need the better off you'll be.  
Remember, if you ever want to buy an ATV or sell your old ATV we can help with that. We have a free online quote system that can get you a price for your old ATV quick and easy. We give you the quote, you decide if you want it, and then we take care of the rest. Quick and easy, just like we said.
So get ready Michigan! We know you've been waiting all year for this, so get out there and happy hunting!