Although motorcycle owners in most states are stashing their bikes away in the garage for the winter, the spring and summer time will open up brand new possibilities for motorcycle buyers in the Metro Detroit or Toledo Metropolitan areas!
I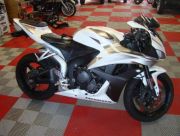 f you are looking to purchase a used motorcycle in Milan or a used sport bike in Milan, you'll want to visit USA Powersports. There you can choose from a wide variety of used motorcycles for sale, or used sport bikes for sale, in a variety of makes or models. We have used Harley Davidsons, Ducatis, Hondas, Yamahas, Kawasakis, used Suzukis, and many other brands you make be looking for.
Exploring all that the "Wolverine State" has to offer is only a few clicks away. If you choose to buy a used sport bike in Milan or a used motorcycle in Milan, you can spend time next spring checking out the beautiful scenery and navigating the twisting, curving roads all throughout Milan. You choose which one you want to buy, and we will have you riding through the city with the wind in your hair in no time.
We have tons of used sport bikes in stock, with new ones arriving every day! If you are looking to buy a used motorcycle in Monroe or a used sport bike in Milan, Michigan, USA Powersports has you covered.
All over Michigan, motorcycle buyers are utilizing the great deals and low prices that USA Powersports has to offer to Milan or Monroe residents . If you would like to purchase a used sport bike in Milan or purchase a used motorcycle in Monroe, we make it easy for you to browse through our inventory, and purchase a used motorcycle or power sport vehicle, hassle free,  even if your credit is bad!
Recognized as one of the largest used motorcycle dealers in Michigan, USA Powersports is sure to have the perfect used motorcycle or ATV for you. With a range of makes, models, and sizes, both men and women can enjoy riding out on a late model used motorcycle. Contact us today, if we don't have what you are looking for, we will be sure to find it!