It's that time of year again!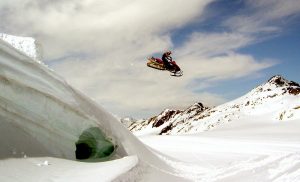 The number of things to do in Pure Michigan is endless. One of the greatest seasons to experience this state to its fullest is during the wintertime. A common hobby to do in the winter is snowmobiling. With more than 200,000 registered snowmobiles in the state of Michigan, this hobby is a perfect way to explore the winter scenery through snowmobile trails. It's also that time where you may want to sell your used snowmobile and get a new one. It that's the case then check out that we buy snowmobiles and submit an RFQ.
Snowmobile Trails in Michigan
There are over 6,500 well-groomed trails that stretch amongst Michigan's borders. Whether if you are near the Keweenaw Peninsula or in the southern part of the state, there is an ample amount of opportunities for you to experience a snow day adventure across the frozen lakes. Below are a couple of the best snowmobile trails throughout the state of MI!
Upper Peninsula (UP) Snowmobiler's Heaven
A snowmobile adventure across Michigan's Upper Peninsula should be on every snowmobiler's bucket list. The view up north is like no other. You are able to see epic views such as the Grand Island Ice Caves and the Tahquamenon Falls State Park and explore the winter season at its finest. One snowmobile trail that's most common in Michigan is in the city of Marquette. West in the UP about 3 hrs from the bridge, Marquette is the home of six groomed trails that includes lodging, dining and fuel options. This vast trail system is one that should be on every snowmobile enthusiasts radar to explore its unique winter phenomenon.
Lower Peninsula (LP) Snowmobile Fun
Michigan's Lower Peninsula is also known for its renowned trails. With its prime conditions and groomed trails, the lower part of Michigan holds a lot of hidden gems as well. One place to ride in the Lower Peninsula is in Gaylord, MI. Known for its winter sports, this area makes some of the best snowmobiling conditions anywhere. Featuring lodging and dining options, this area has some of the best trails to snowmobile on.
Getting a New Snowmobile?
Are you currently in the process of getting a new snowmobile? Sell your old one to us! Fill out our free quote form and we'll be sure to get back to you with a great offer.
January & February are the perfect months to go snowmobiling across the Michigan state. Don't miss out on the fun this year and remember to be safe!