Imagine yourself taking a long late night cruise on a Harley Davidson. The wind in your face, the lights of the big city guiding your way. Being able to experience the excitement and freedom of riding a Harley Davidson through Detroit, MI, Las Vegas, Nevada, or New York City, is a thrill like none other. To take in the scenery, and enjoy every aspect of your surroundings.
Well, stop imagining. USA Powersports has a used Harley Davidson motorcycle waiting for you. Whether you prefer the fiery red of the Harley Davidson FLHRI Road King Fire Edition, or the midnight black Harley Davidson FXDWG Dyna Wide Glide, USA has the Harley Davidson motorcycle your are looking for. With a variety of pre-owned Harley Davisdon motorcycles ranging in color and style, you won't have to go anywhere else.
You may be telling yourself, "yeah, that sounds awesome…but my credit is not good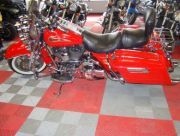 enough". No problem! At USA Powersports you can get financed regardless of your credit. There is no microscopic disclaimers, no hidden fees, and definitely no outrageous interest rates. USA wants to make it as comfortable as possible for you to finance the Harley Davidson you want. With low interest rates, you will be comfortable knowing that you can afford your monthly payment.
If you are ready to get that Harley Davidson you have always dreamed of, now is the time. The weather is breaking and soon you will be able to ride free on  beautiful evening. Visit our showroom and check out all of the used Harley Davidson motorcycles for sale. You are sure to find the perfect one!