Are you looking for a 2013 Can Am ATV? USA Powersports may have just what you are looking for. As a leading dealer of used ATV and other power sport vehicles, USA can get you financed, allowing you to purchase a beautiful 2013 Can Am DS 250 for a low fixed rate.
USA Powersports is known for bringing high quality used ATV utility vehicles, but every once in a while, we will come across a brand new quad that we cannot pass up. In this rare case, the 2013 Can Am DS 250 is brand new and priced perfectly for our customers.
We are able to provide customers with low pricing and low rate financing because we know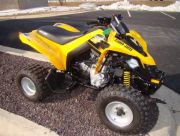 our stuff. When it comes to buying used Can Am's, Yamaha's, or Arctic Cat, we know exactly what to look for, and whether or not we can give you a great deal on the utility vehicle.
At USA Powersports, we want to make sure power sport vehicles, maintenance, and accessories are affordable, allowing you to ride you new Can Am DS 250 without worrying about burning a hole in your pocket. We can help you find high quality low cost replacement brake pads, riding accessories, or even trail cams at the best possible price.
Contact USA Powersports today to inquire about the 2013 Can Am DS 250 in stock! Hurry before its too late! 1.800.963.9216.